Home Alone            
The past three years living under the spell of a healthcare crisis have been difficult ones for the entire world. Quarantines and lockdowns have darkened these days into a forlorn fog of aloneness.
In the still air within the bubble of a solitary life, visual artist Phyllis Zaballero found herself completely "Home Alone," which also happens to be the title of her new solo exhibition at the Altro Mondo Creative Space.
Under these circumstances, Zaballero pulled the security blanket of her studio tight around her and looked around, at her muffled neighbors and stilled streets; at her lush plants and the wild birds nesting in the trees patiently waiting to raucously fly down to her balcony for their bit of breakfast.
Her doors and windows framed this precious little world seemingly frozen in time, which inspired Zaballero to give thanks to my Creator for her blessings. As she is wont to always do to express her love, she painted His gracious gifts.
In this exhibit are those window and door paintings, which speak to the memories of countless quarantines and lockdowns imposed on the daily lives' of many across the globe but which ironically became the artist's inspirations.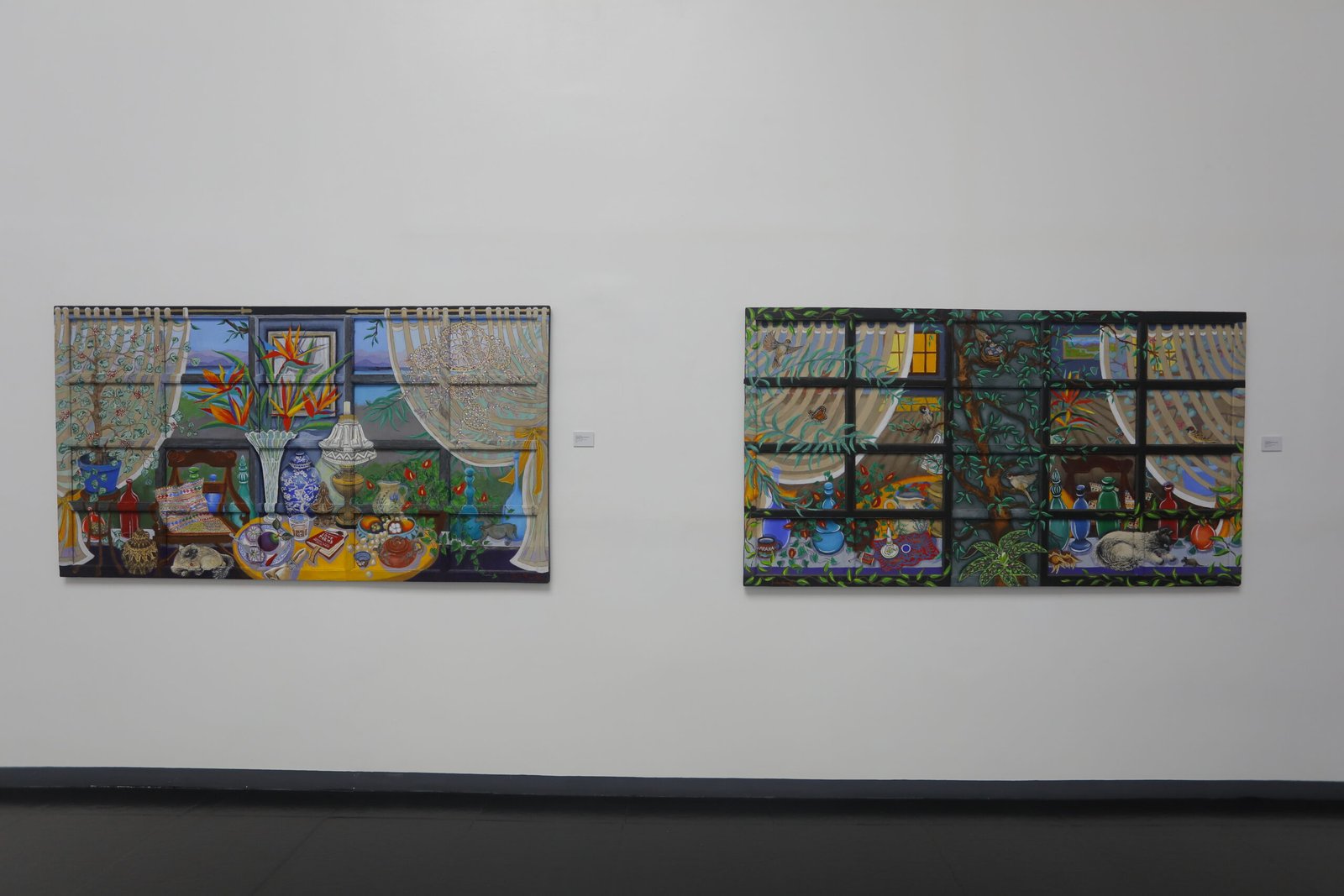 The two large quarantine paintings are especially meaningful to Zaballero as their frameworks are actual windows from no longer existing buildings once owned by her family. As lockdowns eased, she revisited memories and old haunts that have played a significant part in her  idealistic baptism in the arts.
This long-delayed exhibit is one that Zaballero has looked forward to these past three years, which she hopes to present an interesting view of how one artist's isolation impasse has had its own rewards, after all.
Phyllis Zaballero has had an illustrious career spanning several decades. In 1978, she exhibited her first solo show at the Cultural Center of the Philippines titled "Zaballero" and was recognized as one of the CCP Thirteen Artists Awardees.
Since then, she has been the recipient of numerous prestigious study grants from the governments and private foundations of the United States, Great Britain, Germany, France, Portugal and Macau between 1988 and 2006.
She has also mounted nearly 40 solo shows in various galleries, government and private museums, and cultural venues in the Philippines, Asia, Europe, and the United States. In 2013, two books about her career and work were released titled "Phyllis Zaballero", authored by Alfredo Roces, and "How and Why I Make Art" which was self-authored.