With the digital landscape proving to be a worthy alternative for exhibiting art and culture, galleries find refuge in showcasing masterpieces by talented artists in the comfort of our homes.
(Lifestyle Asia) Art has always been an experiential endeavor. What one discovers from, what some may say, innumerable brushstrokes of various shades and colors on what used to be a blank canvas can be different from one eye to another. And in the multitude of emotions that one can evoke from a personal viewing of images and structure, it is in the deep connections made between viewer and creator where messages are revealed and ideas are united. While the global pandemic continues to pose a continuing threat to the future of the art industry, the digital space has become a safe haven for those who wish to see and experience the extraordinary revelations of an artist's obra maestra.

JIM ORENCIO
Morning
acrylic on canvas
36 x 48 inches
2020
One of Manila's leading contemporary art galleries, Altro Mondo Creative Space brings 4 skilled artists together in a series of virtual exhibits. Rio Lascano's Quietude displays masterful manipulations of space and surface, sight and silence breathe a calming aesthetic that is both mind soothing and thought-provoking. Meanderings II by Jim Orencio is a beautiful yet effectively fragile depiction of landscapes that goes beyond mere inspiration—almost desperately begging for nature's much-needed salvation. Manila Ukiyo-e by Marius Black is a subtle yet powerful jab at socio-political mores through vibrant colors and local imagery. And completing the four, Without God, We are Drifters by Enrique Tabuena is a visual journey of the artist's spiritual transcendence and the rhythmic cadence of man's deep connection to a higher being.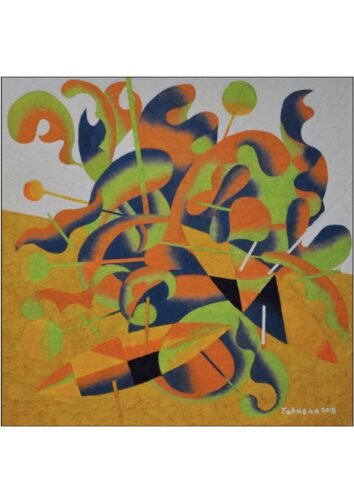 ENRIQUE TABUENA
Atonement
oil on canvas
19.75 x 19.75 inches
2018
"Launching these online exhibits is how we envision the way we now experience art," says Altro Mondo's Artistic Director Remigilio David. "The COVID-19 global pandemic has made us reflect about art's place in this reality and how we can collectively work towards a better future and a healthier world. The four featured artists for our exhibits reflect the nature of the times and our vision for the future. Through this series, we hope to share our vision of the art world as more sustainable, thoughtful, and generous, and we hope to inspire you to have the courage to adapt and embrace the future."
The series will be featured in the gallery's Instagram and Facebook accounts from June 18 to July 19, 2020.